Main office and mailing address:
1st Community Federal Credit Union
3505 Wildewood Drive
San Angelo, Texas 76904-6433
Phone: 325/653-1465 800/749-1465 (all locations)
Routing / ABA #: 311382527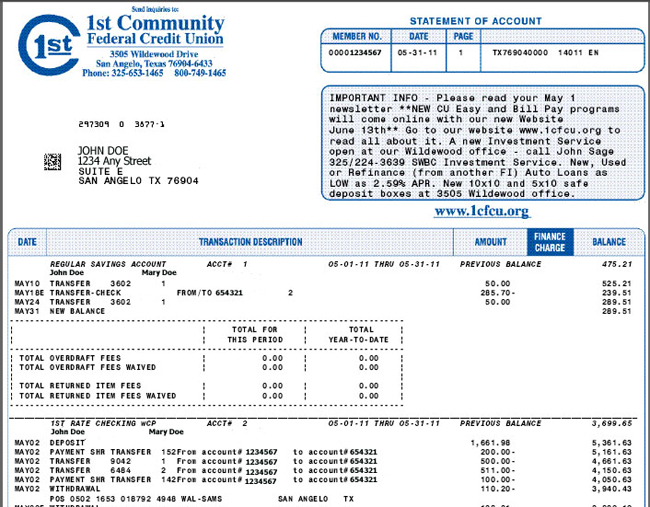 You can access PDFs of the last 18 months of your statements through "CU Easy" Internet Banking eStatements for FREE. They look exactly like your printed statements, but with some bonuses:
You don't have to wait for the mail. They are available the first day of the month for access.
You actually receive an email or a text as a reminder that you have a new statement available for viewing.
The PDF format simply means it's only a picture of your statement so there is no actual access to the funds in your account through the statements.
You can view, print, and/or save the statements to fit your needs.
You can click on any check number in blue that has cleared your account to view both front and back images of the checks.
Here's How to Sign Up for eStatements – It's EASY!
First, you must be enrolled in "CU Easy" Internet banking – Go to www.1cfcu.org / click on "Consumer Banking Sign Up" / follow the prompts to enroll in "CU Easy" Internet Banking.
Once you have arrived on the "Account Center Plus" landing page in "CU Easy" simply click on the "Accounts" tab / select "eStatements" in the drop down / on the "eStatements" page click "View My eStatements" and follow the prompts until you reach the "Statement Selection" page. This means you are signed up for eStatements.
The last 18 months of your statements will appear for you to view. Be sure to check them out. When viewing an eStatement you will be able to click on the blue check numbers that appear and actually view and print the front and back of any checks that have cleared your account. Way to GO! eStatements are fast, safe, good for our environment and they will save you money!